We Have Some Important & Exciting News - SBG Accountants Joins With Kelly Partners

Since SBG Accountants & Business Advisors was established in 1992, we have prided ourselves on doing what we believe is best for our clients by focusing on our ability to provide the best service and experience. After careful consideration, we have made the decision to join with Kelly+Partners, effective from 1 November 2019. This provides long-term security for all our clients and staff to be part of a large group that is leading the way with client services in Australia.
This has been a significant personal decision, with the focus being on you – our valued clients – our team, my family, and my personal health and wellbeing. For more than 27 years I have personally dedicated my career, along with our great team, to providing you, our loyal clients, with the highest level of service that we can. We guarantee we will continue to do so for many more years to come.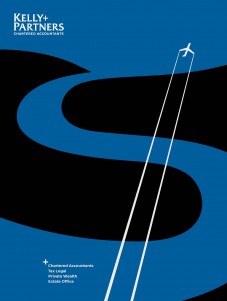 Kelly+Partners is the fastest growing accounting firm in Australia. It has a track record of partnering and improving accounting practices and shares a similar philosophy to SBG Accountants & Business Advisors. Kelly+Partners is an integrated financial services firm offering clients leading counsel, advice and expertise in Accounting and Business Services for small, medium and large business, Tax Legal, Private Wealth and Family Office.
The time felt right to join Kelly+Partners given that we share a similar culture of client service, excellence and care, and that they have a proven track record of managing clients for the long term.
We are confident that together we can ensure the continuity and longevity of our business and can provide you with an even greater level of service going forward.
The most important information for you to be aware of is as follows: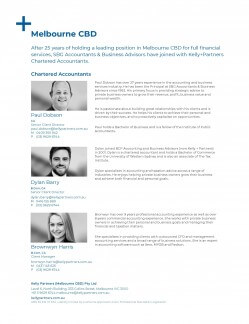 We will be moving to an existing Kelly+Partners Office and our new address will be as follows: Level 6, 333 Collins St, North Building, Melbourne VIC 3000
Dylan Barry will be joining us in the business, bringing with him additional service capacity and expertise in business advisory.
To celebrate our new beginnings we have organised a party at our new offices on 28 November. Invitations will follow and we hope you can join us.
I have made a commitment to continue in my role and remain a shareholder. From your point of view, nothing will change and you will continue to receive the same, caring and personal service from me and my team.

I look forward to speaking to all of you as our new partnership becomes a reality and I thank you for your ongoing support now and over the last 27 years.
Paul Dobson