Philanthropy
HANDS ACROSS THE WATER
H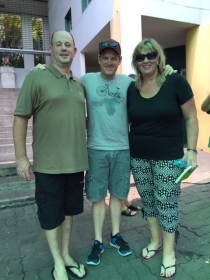 ands Across the Water is an Australian, New Zealand and Thai charity that gives at-risk Thai children and their communities a helping hand. In 2004, countless Thai children were left alone and homeless by the Boxing Day tsunami and former police forensic specialist Peter Baines, working with the tsunami disaster victim identification team, was deeply touched by the number of children left homeless and alone by the natural disaster. He was inspired to establish an organisation that could make a real difference. In late 2005, a team of committed individuals with the desire to help others formed Hands Across The Water.
Their projects are tailored to meet long term local communities' needs and 100% of donations goes to the kids and their communities. No donors' money goes to administration, staff, marketing or fundraising.
As part of their fundraising they provide shared experiences including a 500 kilometre bike ride across Thailand that our Principal Paul Dobson is participating in 2016. This is Paul's personal diary of the ride.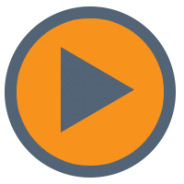 Click Here to view Paul Dobson's thank you video from Thailand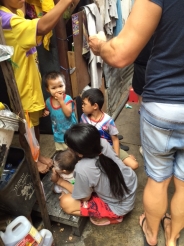 Day 1 Charity Bikeride
First day. What an amazing experience filled with all sorts of emotions following a 1 hour walk through the slums in Bangkok. We were formally welcomed by Peter Baines ( pictured with myself and Jodie) at Duang Prateep Foundation. Visited one of the foundation centres supporting eduction in one of Bangkoks biggest slum areas.

Followed by a presentation from Khru Prateep, founder of Duang Prateep Foundation and partner of Hands Across the Water. She described 8,000,000 people living in 6000 slum areas in Thailand. Thousands of children are not "legal" as the families are too poor to register them. That's means they never go to school or get an education. Staggering really. Poor families accept this image that they are worth nothing. Her foundation is trying to change that with a major focus on helping people in the slum areas with training, educational support and building infrastructure .

We then walked for an hour through the slum areas. Meeting local families, elderly and the children. I can honestly say its one of the most confronting things I've seen and it's truly reinforces why charities like HATW and rides such as this one to raise are so badly needed. If you haven't sponsored yet I would love you to get involved . Please click here to sponsor me.
Bye for now as it's time to keep pedalling!

Day 2 Charity Bikeride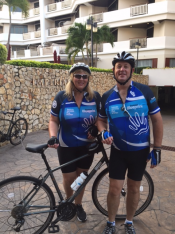 First day of riding today. Alarm off nice and early at 5.30am and breakfast down by 6.45am, checked out and on the bike at 7am from Hua Hin.

Each rider received a photo and a story for a particular child we will meet at the orphanage on the last day of the ride. Around 95 km today, about half of that was into a head wind which wasn't fun but we are all determined to push through. The temperature when started was around 30 degress and built up to 35 mid morning.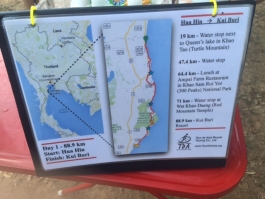 Eventful day and we finished around 3.30pm. Spectacular scenery along the coast and through some small villages. Overall it was a good start but things will only get harder form here.

Until tomorrow, keep on pedalling.

Day 3 Charity Bikeride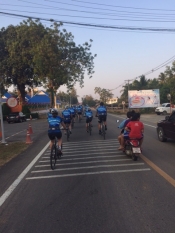 Second day of riding today. Up again at 5.30am for a 7am start and rode 108 kms from Kui Buri to Ban Krut (see map of day 2 ride attached ).

Longer day today than yesterday with 108kms on the bike. Very challenging with the temperature off the road taken at 46 degrees so it was incredibly hot. Finished at 5.00pm so a very long day but witnessed some amazing scenery along the coast and through some of the small villages. It really is quite staggering to see some of the living conditions in these areas you don't normally see on a holiday. That said, the people are warm friendly and always smiling with many people lining the streets to wave us on.

Sma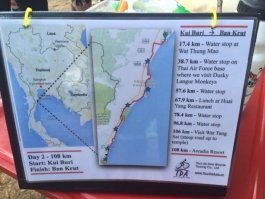 ll toys proved a big hit with local kids as we handed them out to kids along the way. Just a small gift put a smile on some faces and the children are so well mannered and thankful. It's amazing given their living conditions in some of these remote villages. We rode through the air force base which was amazing and it's not everyday you get to ride down a runway on a bicycle.
It needs to be said, my backside is hurting but with three days to go there's no time for complaints so we will push on. As the saying goes, when the going gets tough, the tough get going! Tomorrow it ramps up to about 126km so stay tuned for the next update.

Day 4 Charity Bikeride
Day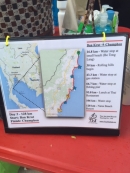 3 of riding and what a day! Up again at 5.30am for a 7am start. Off the bike and finished at 5.15pm after 127 kms through rolling hills and villages. To be honest it was the toughest day and the hardest physical thing I've ever done. Not joking. Absolutely everything required in terms of effort, perseverance and will to make it. It was bloody tough.

There's 50 riders in the group who all

put in an awesome effort. There were lots of laughs, tears, sweat, expletives, joy and pain but an overall sense of achievement all wrapped into a single day. Amazing to be involved and collectively we have raised over $314,000 for the Hands Across The Water charity.

That concludes the ride

down the east coast of Thailand and thankfully we have a rest day tomorrow as we probably won't be able to move. There is a bus trip in the afternoon and we finish the last two days down the west coast ending in Kao Lak. Until tomorrow, it's time for recovery and an ice cold beer at Nana Beach resort.
Day 5 Rest Day
No r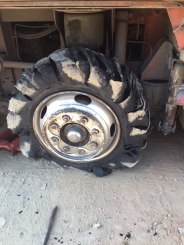 iding today, a much needed rest and recovery day because we are all very stiff and sore. Back on the bike tomorrow for 100km+
'Enjoyed' a three and a half hour bus trip to get to the next departure point. Tyre blew out on the bus so we stopped on the side of the road for about 30 minutes. Luckily it blew out 10 minutes from a tyre repair centre! ( aka shed on the side of the road with bus tyres).
Day 6 Charity Bikeride
Day 4 of riding and I thought Wednesday was tough but today we had to contend with 52 degree heat! It was a spectacular days in many ways with stunning scenery, a visit to a local school and finishing up in huts in the jungle and staring at a cliff face.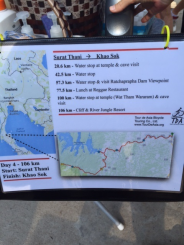 The day started as normal at 5.30am for a 7.00 am ride start . We were privileged to be able to stop at a local school at 9.00am to see the kids assembly, belt out a chorus of waltzing Matilda and give the students some small gifts. Once again these kids showed their aappreciation and it was an amazing time that brought a tear to many eyes in the group.

Along the route we visited the Ratchapraphra Dam. It was a real highlight, a stunning place and scenery but 2km of massively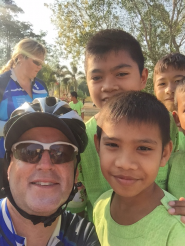 steep hills to get up to see it. It proved very tough on many of the riders particularly given the extreme heat conditions. Leg 4 of today's route down to lunch was amazing with a backdrop of forest and rubber plantations and the temperature hit an energy sapping 52 degrees. It was stifling heat and it took its toll on all 50 riders but the team persevered.

The day finally ended up a cliff at a river jungle resort. A unique destination and a fitting end to an extraordinary day. Tomorrow is the final day of the ride that concludes at the orphanage. It promises to be a very special day that brings the curtain down on an incredible journey.
Day 7 Charity Bikeride - The Finish Line
It was the last day of riding. Where do I start to explain this amazing day.
A little bit of a sleep in with riders heading off at 8am. As we have done every morning of the ride, one of the team read a few of the stories about kids in the orphanage. Some of the stories are truly heartbreaking in terms of what some of these children have had to deal with in their relatively short lives. When you listen to these stories you realize how truly remarkable Peter Baines is a a person and his inspiration to start the Hands Across the Water and how important the charity is to the Thailand community.

We visited the temple in Kao Lak where over 3500 bodies were laid on t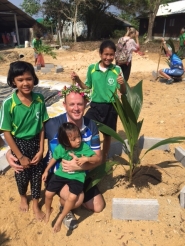 he ground when Peter Baines was sent in to lead Australian and international teams following the Tsunami. To stand on those grounds and think about the 275,000 people that lost their lives in Asia was very moving.
At the beginning of the week each rider was given a photo of a child and a story. We carried that photo with us along the ride and upon our arrival at the orphanage we got to meet that child and spend time with them. Just a highlight and a very humbling experience.

Many partners and children of the riders spent the week at the orphanage helping out. A new sustainable fish pond was built along with a huge vegetable patch to provide food. We participated in planting some trees with 'our' child which was pretty special.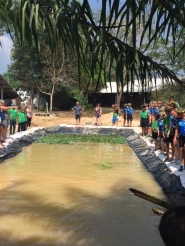 You also realize how 500kms in 5 days on a bike in soaring temperatures is really nothing really when you put it in perspective. When I signed up for this challenge it was one of the most confronting things I'd ever done. Now I would rate it as one of the most satisfying things I've ever done in terms of seeing the difference the funds you donated is going to make to these children. It truly is amazing.
A video will be available of our journey and we will email you a link shortly.

Finally, I must again thank you for your support. I strongly u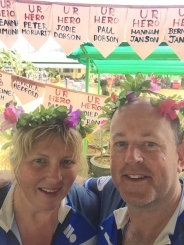 rge you whether in general life or business life you find the one thing you can do to make a difference to someone and go for it. Take on that challenge, make the hard decision and do whatever needs to be done. Just do it!
P.S. I'd also like to say congratulations to my wife Jodie who put in an enormous effort and competed the ride as well despite being way out of her comfort zone . Well done!